Friday, November 7th 2014
From the Pittsburgh Post Gazette's POWERSOURCE: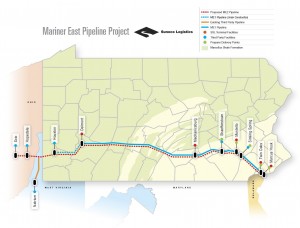 "Sunoco announced Thursday that it is pulling the trigger on a second pipeline meant to carry natural gas liquids from southwestern Pennsylvania, eastern Ohio and West Virginia to the industrial complex southwest of Philadelphia.
The $2.5 billion pipeline dubbed Mariner East 2, with a proposed capacity of 275,000 barrels per day (b/​d), is the second phase of the company's plans to ship natural gas liquids across the state.
Sunoco is in the process of re-purposing Mariner East 1, a crude pipeline that spans 300 miles between Delmont in Westmoreland County and Marcus Hook. That project has a capacity of 70,000 b/​d and is expected to begin shipping propane by the end of the year. The system will add ethane by mid-2015, executives said on Thursday's quarterly earnings call.
Mariner East 2 will start in Ohio and run through the panhandle of West Virginia and southwestern Pennsylvania until it meets up with its predecessor in Houston, Washington County. From there, the lines will run parallel to the east coast.
At Marcus Hook, natural gas liquids can be shipped to local and regional markets or exported to international customers."
Read more at POWERSOURCE