Thursday, December 4th 2014
T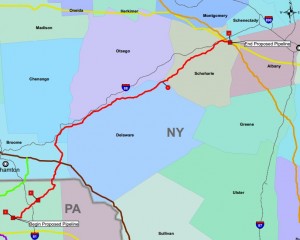 his week, the Federal Energy Regulatory Commission approved plans for the Constitution Pipeline, which will funnel Marcellus Shale gas from Northern Pennsylvania into the nearby major Northeast market, specifically of New York City and Boston.
The proposed, 124-mile, 30 inch underground pipeline is a joint venture between shale players Williams, Cabot Oil & Gas, Piedmont Natural Gas, and WGL  Holdings, and when constructed will be able to move 650,000 dekatherms of natural gas per day (enough natural gas to serve 3 million homes).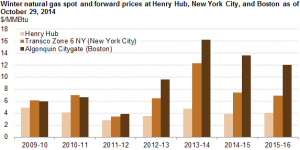 Why so important? Despite the proximity to the prolific gas production areas of northern Pennsylvania, major Northeast markets have not taken advantage of cheap natural gas. Compared to the Henry Hub, the price of gas is 2-3x more expensive in New York City and Boston– it's as if the shale boom never happened in these vital economic areas. The Constitution Pipeline, slated to open in 2016, will likely deflate prices in the Northeast and lead to greater cost parity with Pennsylvania.
That being said, the project faces community opposition, and must obtain final permits from Pennsylvania's Department of Environmental Protection, the U.S. Army Corps of Engineers and the New York Department of Environmental Conservation.
Read more about the project on State Impact or ConsitutionPipeline.com.