SEI recently attended the "Zero Waste Presentation & Clean Energy Tour" hosted by the Delaware Valley Green Building Council and Delaware Nature Society. The group toured two of the Delaware Nature Society's four locations: the Ashland Nature Center in Hockessin and Coverdale Farm Preserve in Greenville, Delaware.
The tour started at Ashland Nature Center with a presentation on "zero waste."  Eric Long, a Wilmington Charter High School student, presented his recent project exploring the concept of converting food waste to energy. A few years ago, Eric successfully collected food waste within his own neighborhood and transported it to the Peninsula Compost Facility in Wilmington, Delaware. Unfortunately, this facility was closed in January 2015. There were many reasons for the closure; time needed to produce finished compost taking longer than originally planned, waste or finished compost having been stored onsite above approved quantities, and frequent odor complaints. In order to find another solution, Eric researched methods of anaerobic digestion. Eric described the basics utilizing a biodigestor system to produce energy in the form of biogas.  He spoke with managers of both Canadian and U.S. biodigestor facilities and developed a proposal for the concept in Delaware. The proposal was presented and submitted this past March to members of Delaware legislature in Dover.
To learn more, check out the following articles on food waste and digestor technology:
"So Much Wasted Energy – Rethinking food waste" by Philip Ackerman-Leist
"Food Waste Factors" by Christine McKiernan
Delaware Nature Society's Ashland Nature Center utilizes a geothermal system for heating and cooling. In addition, all of the buildings on site are powered through a rooftop solar system.  Excess energy is sold to Delmarva Power. Coverdale Farm also utilizes solar energy in a variety of ways on the farm. While the farm has one rooftop solar installation, it also has a separate field installation site. The field location was specifically selected because the area was lower lying and hence too wet to be suitable for farming. As you can see from the photos, the sheep provide the maintenance to the site through rotational grazing. The solar panels also provide much needed shade throughout the spring and early summer when grazing is the best.   The solar power also supports electric fencing on some of the property for additional livestock and is also utilized by the mobile chicken wagon to open and close the entry doors, keeping the chickens safe from ground predators at night!
Pictured above: Scott Heck, Facilities Manager (left) talking to the group about geothermal and solar applications at Ashland Nature Center.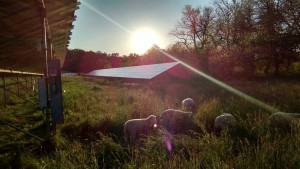 Pictured above: Sheep grazing in solar panel field at Coverdale Farm.
For more information on Ashland Nature Center or Coverdale Farm, please visit http://www.delawarenaturesociety.org/