Friday, May 23rd 2014
From StateImpact PA: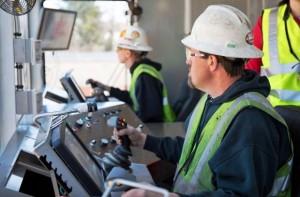 In the past few years, the Marcellus Shale has rapidly become one of the most productive gas plays on the planet. But for many people in Southeastern Pennsylvania– the state's most populated region– the boom has been out-of-sight and out-of-mind.
Until now.
The region is beginning to experience the tradeoffs long familiar to those who live on top of the Shale—more job opportunities and more disruption.
"It's at our door"
Sherry Wolfe lives in Lebanon County and is upset about plans to build a new natural gas pipeline through the area.
"We all know what's going on in the Marcellus Shale," she says. "But it seems like it's far away. Now it's here. It's at our door, and it's frightening."
The pipeline is part of a larger $3 billion Atlantic Sunrise expansion by Oklahoma-based pipeline company, Williams Partners.
Williams already operates the Transco system, which has over 10,000 miles of pipeline moving gas to other businesses, like utility companies and power plants. The Atlantic Sunrise project would increase Transco's capacity by about 20 percent.
The new pipeline would also cut through several nature preserves in Lancaster County. When word of that got out, a local group quickly formed to fight the project.
The group is led by Southern Lancaster County resident Malinda Clatterbuck.
"A lot of people who live in the southern end feel the same way I do," she says. "We live here for a reason. We like the privacy, we like the beauty, we like the peace and serenity and the nature that's around us."
Williams spokesman Chris Stockton says although this pipeline expansion project isn't designed to bring Marcellus gas to Pennsylvanians, it will serve millions of other people—in cities like Baltimore, Washington D.C. and as far south as Alabama.
"[The Atlantic Sunrise project] is not designed to serve Pennsylvania," he says. "But it could potentially in the future. The gas in the Transco system already provides about a third of the gas consumed in Pennsylvania."
The Williams line is just one of many new infrastructure projects in the works, to make use of the state's abundant natural gas resources.
A report by the Moody's investment firm issued earlier this month noted how the Northeastern United States is rearranging the flow of gas pipeline systems to accommodate the rapid growth from the Marcellus Shale:
The latest round of projects involves changing what a pipeline was built to do, such as reversing the direction of flow or repurposing to transport liquids rather than gas. These target new demand such as [liquefied natural gas] export terminals and gas-fired power facilities that are being built.
More gas-related infrastructure may be on the way.
In neighboring Berks County Canadian developer, EmberClear, is proposing a $1 billion plant that would convert natural gas into more expensive gasoline. However, hundreds of angry residents have been packing public meetings to oppose the idea.
Meanwhile Chester County has become a natural nexus for pipelines, with its proximity to major cities along the East Coast.
Sunoco Logistics' plans to put in a new pump station in West Goshen Township to transport natural gas liquids from the Marcellus Shale to its Marcus Hook refinery is also seeing strong local resistance.
Last month Pennsylvania's Joint Legislative Conservation Committee held a public hearing there to discuss ways to expand state oversight of pipelines.
State Sen. Andy Dinniman (D- Chester) has introduced a package of bills aimed at improving transparency and protecting environment resources.
"All we're trying to do is make sure every township, every citizen, has information when it comes to the placing of pipelines."
"It's enabled us to withstand the recession"
The emerging business from oil and gas boom in Southeastern Pennsylvania has also brought new job opportunities. The rapid increase in crude oil production from North Dakota has helped to revive Philadelphia's refineries.
Outside Philadelphia, the West Chester headquarters of drill-rig manufacturer Schramm is buzzing with sounds of new work.
The company has been around since 1900, but recently picked up more work building the big rigs that tower over Marcellus Shale well pads.
David Metzger grew up in Philadelphia and now works for Schramm. He designs and tests the equipment for the rigs and says they've upgraded the controls to make things easier on the operators.
"We tried to put all the main functions onto joysticks, and that means the operator remembers all the commands through muscle memory. He doesn't have to look at a panel, he can keep his eyes on the drill floor and that makes rig operation a whole lot safer."
When the recession hit it 2008, Lancaster-based environmental engineering firm Rettew faced a downturn in its business, but quickly pivoted toward working for Marcellus Shale companies.
Rettew president Mark Lauriello says in the past five years, the company has opened five new offices and nearly doubled its workforce– thanks to the energy industry.
"It's enabled us to withstand the recession and grow through the recession," he says. "It's provided a lot of opportunities for our employees for different types of work and opportunity for advancement."
The impact on southeastern Pennsylvania could grow as energy companies continue to develop the gas and expand to international markets. Federal regulators are evaluating plans to develop a liquefied natural gas export terminal along the Chesapeake Bay.
It would be the closest such facility to the Marcellus Shale and could make Pennsylvania a global energy hub meaning more jobs and more tradeoffs.
Read more at StateImpact PA.