Thursday, July 19th 2012
From the Reading Eagle
"an explosion Wednesday morning caused operators to cut power to one of two nuclear reactors at the Limerick Generating Station…One of two reactors was shut down at 8:39 after an electrical problem caused by an explosion in a transformer cut power to a turbine cooling system, officials said."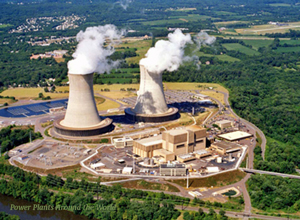 Rest assured the malfunction occured on the non-nuclear side of the operation, and there was never any threat to public safety. Instead, the sudden shutdown of one of the area's largest generation facility provided an opportunity to watch the smart grid respond.
"PJM [operators of the region's distribution grid] has agreements with regional power suppliers to put their smaller, more expensive natural gas-fired turbine generators online to replace the lost power from Limerick. A second option is to ask the region's largest power consumers to reduce their demand for electricity. 
When the Unit 1 reactor at Limerick was taken out of service, PJM chose the second option and asked Met-Ed, PPL Utilities Corp. and other utilities in the region to call on their biggest customers to cut back their consumption. 
Businesses are offered the opportunity to join the emergency power conservation program in advance and are paid monthly stipends to be on standby in the event of a potential power crisis like the loss of a nuclear plant, Dotter said."
Read more about the incident and the grid's response here.