Monday, July 28th 2014
From Keystone Edge: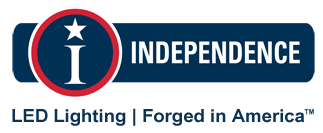 Wayne's Independence LED Lighting is celebrating its namesake holiday all month with a $10 million giveaway program to small businesses.
The maker of LED tubes and LED fixtures will cover up to $10,000 per business for the first 1,000 that register this month. Services include a cash-for-clunkers buy back on fluorescent tubes (when replaced with LED lighting), a lighting savings analysis, manufacturer-direct pricing, zero-cost financing and free installation.
Independence moved its manufacturing from China to Pennsylvania in 2010 in order to increase quality assurance, reduce transportation costs and improve delivery time to its customer base, concentrated between Washington, D.C. and New York City, says CEO Charlie Szoradi.
Read more at Keystone Edge.