On Wednesday, July 27, more than 60 attendees joined the Smart Energy Initiative (SEI) for a breakfast briefing on the State of Renewable Energy in the Region: A Focus on Wind and Solar.  The event was held at the Chester County Economic Development Council (CCEDC) in Exton, PA and was co-sponsored by Brandywine Valley Heating and Air Conditioning, Chambers for Innovation and Clean Energy, Practical Energy Solutions, A Renewable America, Silicon Power, and SunPower Builders.
Paul Spiegel, founder and president of Practical Energy Solutions, moderated a panel of speakers that included:  Lisa Jacobson with the Business Council for Sustainable Energy; Hayley Book with the Pennsylvania Department of Environmental Protection; and Abby Watson, with Gamesa and Women of Wind Energy.  The following topics were discussed:
Overview of Key Solar and Wind Projects in the State
How our regional energy sector can help Pennsylvania achieve climate goals
Current trends and innovations in wind, solar, and other renewable energy technology compared to gas and nuclear
Wind energy investment trends and technology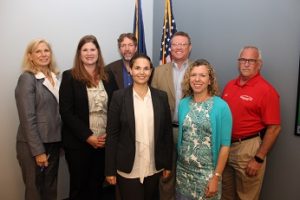 From left (back row): Nancy Kunkle, Smart Energy Initiative (SEI) Program Manager; Hayley Book, Pennsylvania Department of Environmental Protection; Paul Speigel, Practical Energy Solutions and SEI Board Vice-Chair; Steve Krug, Krug Architects and SEI Programming Committee Chair; Bill Ronayne, Delaware Valley Heating & Air Conditioning and SEI Board Chair.  From left (Front row): Abby Watson, Gamesa and Women in Wind Energy; Lisa Jacobson, Business Council for Sustainable Energy
Here are some highlights from the event that detail the transformative era we are in for energy and how the state of PA is positioned on the front lines to respond to, and drive, the growth of energy efficiency, and alternative energy sources such as wind and solar.
Lisa Jacobson shared a newly published PA State Energy fact that showed that the US has achieved 13% of renewable energy sources nationally and highlighted the state of PA's myriad energy sources and technology which sets it apart from most other states.  In fact, PA is already about halfway to achieving compliance with the mass-based goal under the Clean Power Plan (CPP).   Jacobson's team reports that PA is driving a sea change in the US natural gas markets with production growth increasing, while at the same time we are reporting significant trends in energy efficiency.
Hayley Book reviewed Pennsylvania's solar goals and the recent proposal to the Department of Energy for building PA's solar future.  The state is looking for ways to reach its goal of 10% of electricity sales through solar.  Book shared Pennsylvania's 2016 State Energy Program Plan and the associated projects that will support the Climate Change Action Plan and achieve increased energy emergency preparedness capabilities.  She also shared a fact sheet that outlines the energy financial incentives available to PA businesses.
Abby Watson discussed the 48,000 operational wind turbines in the United States, even though Pennsylvania' last major wind installation took place in 2012, there are currently more than 1,000 wind sector jobs in the state and great potential for growth in this area.  Watson shared the latest in wind technology including unique storage, offshore options, and challenges for the industry.   Currently, Pennsylvania ranks 16th in nation for installed wind capacity and avoided 2.4 million metric tons of CO2 in 2014 through online wind energy.  Watson also noted that wind power costs have fallen nearly 66% since 2009.
Pennsylvania's renewable energy sector has a bright future given that 4% of the state's power comes from renewable energy; there are 3,498 jobs just in the renewable sector; and the state has made a $3.9B investment in clean energy.  Plus, wind turbine technician positions are the fastest growing job in the nation in 2015!
Missing a Program Handout?
Bloomberg New Energy Finance: State Energy Factsheet, Pennsylvania
PA DEP: Energy Financial Incentives for PA Businesses
Presentations:
Business Council for Sustainable Energy
Pennsylvania Department of Environmental Protection