Monday, August 11th 2014
From StateImpactPA: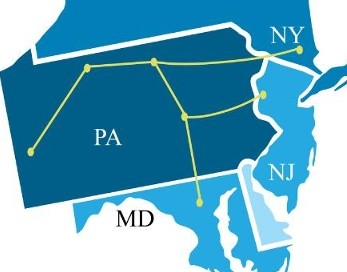 'PPL Electric Utilities is looking to build a new multi-billion dollar transmission line to keep up with natural gas production in the Marcellus Shale and the changing landscape of power generation.
If approved by regulators, the high-voltage power line is still a decade away but PPL has started planning.
The transmission line would start in Western Pennsylvania and run 725 miles through the state's Northern Tier, into New Jersey and New York, as well as southward into Maryland.
The project would cost between $4 and 6 billion, according to PPL spokesman Paul Wirth.
"The gas industry is one of the impetuses behind it," he says. "The other is that by starting in Western Pennsylvania we can bring existing supplies of lower-cost power—fueled by renewables and other sources—into this region."'