Monday, August 24th 2015
From greentechmedia.com: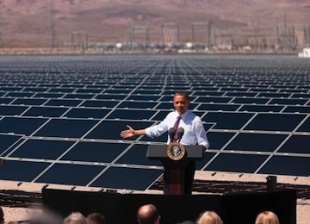 Some barriers to popularizing the property-assessed clean energy (PACE) program across the U.S. were cleared today with an announcement made by President Obama at the National Clean Energy Summit in Las Vegas, Nevada.
PACE loan programs let homeowners finance energy-efficiency upgrades, such as adding insulation and water savings measures or installing energy-efficient windows or solar panels, to be paid back as a line item on the homeowner's property tax bill. This lowers the risk for lenders and owners and can potentially build a much larger energy-efficiency market.
But PACE obligations enjoy first-lien status in most states, making municipalities first in line to be repaid — ahead of the mortgage agencies, in case of default — and mortgage agencies don't like that. 
So today, the White House and the Federal Housing Administration (FHA) established a new PACE guidance aiming to "remove existing barriers and accelerate the use of PACE financing for single-family housing." (The FHA guidance letter can be found here.)
According to the California Association of Realtors, the FHA guidance will require PACE liens to be subordinate to FHA single-family first-mortgage financing,
As Cisco DeVries, CEO of Renew Financial, notes in a release, "The FHA, which insures over 20 percent of new mortgage originations in the United States, outlined a set of principles associated with their new guidance — including allowing PACE financing to transfer between owners during the sale of the home if the PACE lien can be subordinated during a foreclosure."
In a statement from today, Ed Golding, head of the FHA, wrote, "PACE allows homeowners to benefit from the improvements immediately and spread the cost over time. When the property is sold, the PACE loan may transfer to the next owner, who is responsible for repaying the loan. The ability to transfer the loan to the new owner allows for both the payment and the value of the retrofit to be transferred from one owner to the next."
California completed about $500 million in residential PACE projects for approximately 25,000 homes in 2014, according to PACENow, a nonprofit that promotes the PACE model.
Read more at greentechmedia.com: