Wednesday, August 8th 2012 
Could Pennsylvania's Marcellus Shale natural take a bite out of imported oil? Only if automakers create practical, exciting vehicles for public consumption. NPR covered the conundrum recently:
From NPR: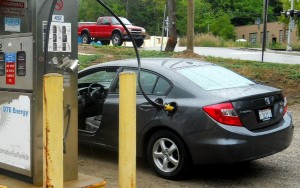 "More than 20 state governors are taking an unusual step to boost the natural gas vehicle industry. Independent of the federal government, they're asking Detroit carmakers to build them a new kind of car: a midsize sedan that runs on compressed natural gas instead of gasoline.
The governors are hoping to boost demand for natural gas cars with their collective buying power. Combined, the states say they could ultimately buy thousands of CNG vehicles to replace their current vehicle fleets — if those cars were available.
Only a few kinds of vehicles currently run on compressed natural gas in the U.S., and only one, the CNG Honda Civic, is a passenger car. Detroit currently offers no natural gas-fueled passenger cars."