On Wednesday, September 14, 2016, the Smart Energy Initiative (SEI) of Southeastern PA hosted an informative event for businesses and individuals with an interest in the energy industry. The "Leaders in LEED"  event was presented by our title sponsor, NRG Energy, and showcased the Saint-Gobain CertainTeed North American Headquarters at 20 Moores Road in Malvern, PA.  The event included a tour of Saint Gobain/CertainTeed, one of the world's largest building materials companies, whose North American headquarters has achieved LEED Platinum status. During the tour and a panel presentation from building and sustainability experts, Saint-Gobain provided attendees with information about leading edge and innovative materials that help commercial buildings and residential homes achieve energy efficiency and well-being in places where people live.  In essence, the facility in Malvern, PA is a perfect example of a living lab.  See what #WorkingInALivingLab really means!
The event was a great success by all measures and we had a packed house!  Saint Gobain/CertainTeed had an engaged and knowledgeable group of guides to lead the over 80 attendees through the tour, which literally started from the arrival at the building and the approach to the front door!  The tour is accredited by AIA and GBCI which provided eligible attendees the benefit of receiving continuing education credits. Following the tour, the groups gathered to hear from a panel of experts who gave further details about how the company made decisions on the materials and sustainability features that were incorporated into the facility and work environment.  Attendees heard about emerging new technologies, and how similar techniques and concepts can be applied in other settings and buildings; very thought provoking!  The event was a great opportunity to learn about careers in the energy and building industry.  In fact, over 29 of the atten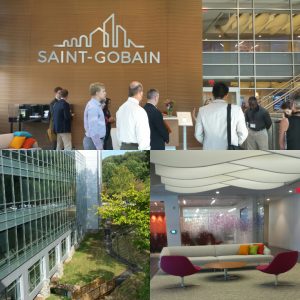 dees were from regional high schools and colleges including students from Great Valley High School, West Chester Area High Schools, Downingtown STEM Academy, CCIU's Pickering Campus, Temple University, and Villanova University.
Joining the students, businesses and individuals in attendance was PA state Senator Andy Dinniman who has been a supporter of smart energy opportunities and shared the following thoughts with the SEI team:   "Saint-Gobain's North American Headquarters is a prime example of what can be accomplished when companies fully embrace clean energy and energy efficiency for both economic and environmental benefits," state Senator Andy Dinniman, who serves on the Senate Environmental Resources and Energy Committee, said. "The way a vacant office building and brownfield was transformed into a world-class, LEED platinum certified office space is an achievement that we should not only be proud of, but one that we must impart to the next generation – the students and young people who will be the designers, engineers, and architects of tomorrow. I want to thank all the organizations and industry partners who made the Leaders with LEED program possible."  The Smart Energy Initiative (SEI) team thanks Senator Dinniman for taking time to attend this event and for his continued support.
We appreciate Saint-Gobain/CertainTeed for graciously opening their doors to make this educational and informative event possible.   In addition to NRG, the SEI team thanks Bernardon,  Practical Energy Solutions, SunPower Builders, Keares Electrical Contracting, and Holiday Inn Express- Exton, for sponsoring this event!
The Smart Energy Initiative (SEI) of Southeastern Pennsylvania is an initiative of the Chester County Economic Development Council and is funded in part by private sector with grant funding received from the Pennsylvania Department of Labor & Industry through the Chester County Workforce Development Board.