Wednesday, September 4th 2013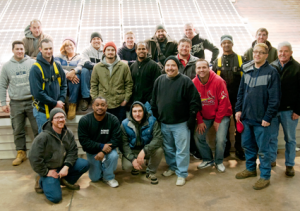 Students from the Philadelphia Solar Career Move program completed their three week intensive training session last month and are now prepared to make waves in the energy industry. This is an exciting opportunity for local employers to get highly skilled, pre-trained workers to help them meet their hiring goals in 2013 and beyond.
The Solar Career Move is a project funded by the Green Jobs Innovation Fund grant from the U.S. Department of Labor and is a part of the Jobs for the Future Greenways Initiative. It consists of a partnership between the Smart Energy Initiative, Infinite Solar, the Federation of Neighborhood Centers (FNC), the Job Opportunity Investment Network, and Philadelphia Works. The team members carefully screened over one hundred applicants to identify those individuals who best exemplified the qualities that lead to success in the skilled trades: ambition, math & reading proficiency, leadership experience in construction projects, reliability, and an entrepreneurial spirit.
The Federation was able to identify the 12 applicants that best demonstrated these qualities through a rigorous testing and interview process. They then put them through two full weeks of training in which they honed their math, electrical, mechanical, and professional development skills. Following this session, students participated in Infinite Solar's week long, industry acclaimed Solar PV Hands-On Design and Installation Workshop. Now the students are preparing to take the NABCEP Entry Level Exam in a few weeks.
Read more about the Solar Career Move here or contact us to discuss hiring program graduates!