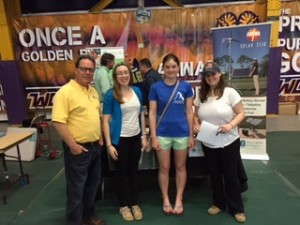 Pictured above: Bill Finch of Alternative Energy Inc. and West Chester University students
On Earth Day, April 22, 2016 the Smart Energy Initiative team participated in West Chester University's Earth Fair.  The Earth Fair is an annual event on West Chester's campus that promotes local sustainability.  The idea is to bring together campus clubs, local environmental groups, and eco-friendly businesses in the area to one place to celebrate all the good happening around West Chester.
Kayla Wilson was this year's coordinator and she did a great job doing just that . . .  pulling over 25 exhibitors together and, at the last minute due to a threatening forecast, moving the event inside to the Hollinger Field House on campus.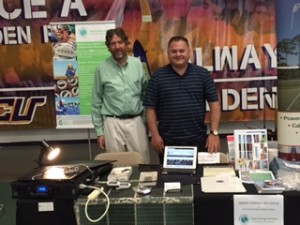 Pictured above: Paul Spiegel, Practical Energy Solutions, and Lou Nazirides, Keares Electrical Contracting
The WCU Earth Club arranged for a way to engage the WCU student by doing give-aways (water bottles, collapsible canteens, Tshirts) for students who attended 5 booths during the event.  We're happy to say that SEI was frequently chosen as a booth to visit – perhaps it was the intrigue of the solar panels on display by Bill Finch of Alternative Energy, or the knowledge and repertoire from Bill and our other partner companies (Lou Nazarides of Keares Electric, Paul Spiegel of Practical Energy Solutions, and Steve Krug of Krug Architects),  or maybe our informational flyers on energy related careers and fun flashlight give-away we had for our visitors.  In any case, we had the opportunity to spread the word about the mission of SEI and introduce some of our partnering companies at the same time.  All in all, a fun way to build a stronger network for the smart energy industry in the region!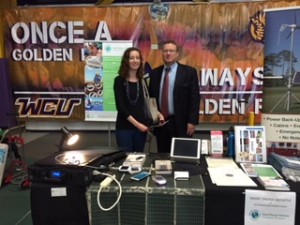 Pictured above: Sharlee K. Van Tine, Tono Architects, and Steve Krug, Krug Architects
Thanks to our SEI partner companies who helped support our presence at the event:  Alternative Energy, Inc., Keares Electrical Contracting, Inc., Practical Energy Solutions, Brandywine Valley Heating and Air Conditioning, and Krug Architects.