Friday, May 24th 2013
From The Philly Post: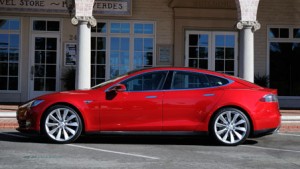 You've probably heard of Tesla Motors by now, the California company that designs and manufactures electric cars. Founded in 2003, Tesla almost didn't make it through the recession, but today its fortunes are rising, thanks in large part to the car it released last year: the Model S (top photo). A premium sport sedan, the Model S is aimed at people who would otherwise buy a Mercedes S Class or a Lexus. It starts at $69,900 ($62,400 with a $7,500 federal tax credit). You recharge the car by plugging it into a wall outlet or a public charging station. The charging port is built into the taillight. Automotive journalists have gone nuts for the Model S; Motor Trend and Automobile named it their car of the year for 2013, and Consumer Reports gave it a rare 99 out of 100 rating.
Tesla just opened its first dealership in Pennsylvania, in the King of Prussia Mall, next to the Apple Store and not far from the Neiman Marcus. The store is Tesla's 24th in the country and 35th in the world. I went to check it out last Thursday, the day before it officially opened to the public. The store's metal gate was down when I arrived—several passing mallgoers had stopped to peer inside, hooking their fingers through the gate—but a Tesla communications manager, Alexis Georgeson, let me in…
…One of the knocks on Tesla has always been that they're making toys for rich people, not practical cars for regular folk; Tesla's first vehicle, the Roadster, a two-seat sports car, cost north of $100,000. I asked Georgeson how long it would be before a person like me could afford a Tesla. She said they were working on it. First will come the Model X, an electric SUV based on the Model S platform, in 2014. The next model after that will likely be more affordable, starting around $30,000. After hanging out in the dealership, I'm anxious for that day to come."
Read more at The Philly Post…